IT Wellness
The purpose of this site is to address the issue of work and personal wellness among Information Systems professionals (including programmers, systems analysts, data analysts, telecommunication specialists, help desk personnel etc.)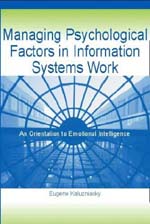 While there are many web sites dealing with one's health and well being, this site will attempt to apply such ideas specifically to work situations and lives of IS/IT workers. Since the nature of our work involves constant change and demands creativity under pressure, many people would like to develop a deeper "wellness intelligence" so as to better cope with these new realities. A number of IS professionals are seeking ways to find their work and their life more relaxed and rewarding.
This is an evolutionary site. It is developing over time. We hope to offer relevant information related to wellness intelligence? for IS which is sound, specific and practical.
In March 2004, Prof. Eugene Kaluzniacky from the University of Winnipeg in Canada (www.uwinnipeg.ca/~kaluzni) published his book "Managing Psychological Factors in Information Systems Work - An Orientation to Emotional Intelligence". This book is listed with Amazon and the Idea Group Inc..
---
Created: August 1999
Updated: August 2004